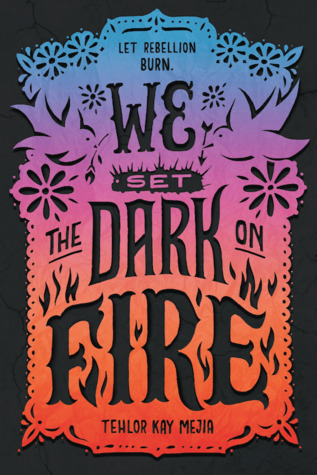 Title: We Set the Dark On Fire
Author: Tehlor Kay Mejia
Pub Date: February, 26th 2019
Genre: YA Fantasy
---
I'M IN LOVE
Thousand of years ago, the God brothers, Sun and Salt, fought for Sun's second wife, Moon Goddess. Salt, the jealous, was forced out and Sun made Medio island prospered. A wall was built and the island divided; the Chosen Ones, smiled by Sun, live inside, closer to the capital, with all their good fortune. On the other side, the wrong side, poverty, hunger and discontent grew.
Medio society has kept the stories and traditions decade after decade; as Sun, men take two wives; a Primera to be his partner, a Segunda to be his lover. The wealthy kept wealthy and the system of injustice kept in place.
But the people are tired, tired of dying, tired of being silenced, tired of being invisible. Everyone is trying to hide their real intentions and loyalties as the resistance grows, but secrets are hard to keep when the powerful get uneasy.
For Dani, hiding is a survival thing. When she was young, her parents crossed the wall and created a completely new life for her. They sacrificed everything, risking their lives to bring her to a place of opportunities. So when Dani is sent to the prestigious Medio School for Girls, she knows she has to be the best Primera-make her parents proud and keep their pasts hidden. And she does.
Dani is marring one of the wealthiest and most powerful families of Medio, the young son of the Garcias. But as Dani lets herself breath for a moment in relief, she finds out that her Segunda, the second wife of her husband, is her mortal enemy, Carmen. Carmen, who has made her life impossible all these years, the girl that Dani can't let herself trust but also, the girl she can't stop thinking about.
Although Medio is a fantasy world, there's without a doubt a complete influence of Latinx culture. Here, Latinx is the norm and the characters are allowed to exist. And it makes my heart ache.
The book takes a very hard look at the classicism and machismo in the community; the way the wealthy own communities, the ways religion is used as a justification to uphold a system of oppression, the way family and chisme are used to control people (especially young people who want to go against the norm).
Mateo is the personification of the Latinx macho man, the one who grew in a culture that justifies and validates his abuse. He is a quite simple character; a man born with power that believes that the world belongs to him. And the world kind of does.
Dani is ready to occupy her role as Primera, to be her husband loyal partner, to provide her knowledge and hard work. But she soon learns, that's not how Mateo sees her, not like her equal (like he should, according to their traditions), but as a silly, innocent girl who he owns. This a shock for our main character, but also, the push she needs to make a choice, to let her loyalty for the Medio unfair traditions go.
Dani is not the center or the organizer of the revolution. No, this story is about Dani deciding to go against everything she has been taught, everything she has forced herself to believe (about herself and the world) is wrong. How much is Dani willing to sacrifice? How far will she go?
Oh Dani is an amazing character. She's so brave, brave to go against what she is supposed, brave to fight back, brave to stand up for herself, brave to realize that she doesn't own her parents her entire life, that she is allowed to make her own choices too. Carmen is the other side, the one who is allowed (by society) to be sentimental, silly, romantic. But she's also wearing a mask, a mask to show society what she's supposed to, to hide her real feelings and thoughts. They don't like each other at first, not at all, but soon they learn that their secrets are painful to carry alone. And tentatively they become friends. A friendship that slowly grows into romance. Although this book is full of tension, fear and darkness, I can assure, there are girls kissing and girls thinking about kissing and girls who fall for each other.
One thing I wished we have seen more: the gods and goddess. The religion in this book is fascinating and very interesting, I hope we see more in the next book.
We Set The Dark On Fire is not subtle on its hard looks on xenophobia, privilege, oppression, poverty, social revolution. It doesn't matter where you look, this book is heartbreaking and heartwarming, everything it discusses is very respectful and honest. Ultimately, it's a story of hope. A reminder, really, that like Dani, we're not alone. Keep fighting!
Highly recommend if you like:
YA fantasy with social themes
Rivals to lovers trope
Unapologetic sapphic Latinx girls
---
Are you planning to read it? Do you like the rivals to lovers trope?